Wagyu New York steaks are known for their insane marbling.
**Indulge in Wagyu Opulence**
Elevate your culinary experience with our Wagyu New York Steak, a symphony of flavor and tenderness that transcends the ordinary.
**The Wagyu Difference**
Sourced from our family-owned ranch, our Wagyu New York Steak is a testament to our commitment to quality and excellence. Raised with meticulous care, our Wagyu cattle boast exceptional marbling, setting the stage for a dining experience like no other.
**Unveiling Flavorful Intricacies**
As you savor the first bite, the delicate marbling weaves through the meat, creating a rich, buttery texture that unfolds with each succulent chew. The Wagyu difference is not just a claim; it's a culinary revelation.
**Crafted for Connoisseurs**
Tailored for discerning palates, our Wagyu New York Steak is more than a meal – it's a masterpiece. The harmonious balance of lean muscle and marbling ensures a steak that is not only visually stunning but promises an unparalleled indulgence for your taste buds.
**Perfecting the Art of Dining**
Whether you're a seasoned chef or an enthusiastic home cook, our Wagyu New York Steak is your canvas. The steak's perfection lies not just in its marbling but in the meticulous balance that transforms each cooking endeavor into a culinary triumph.
**A Culinary Journey Begins**
From the pasture to your plate, embark on a gastronomic journey that honors tradition, craftsmanship, and the pursuit of Wagyu excellence. Make each meal a celebration with our Wagyu New York Steak – where flavor meets opulence in every tender slice.
**Made In the USA**
Savor the epitome of culinary excellence with our Wagyu New York Steaks, thoughtfully raised in the USA. Meticulously crafted from the finest Wagyu cattle, these steaks boast unparalleled marbling, ensuring a rich, buttery flavor. Experience the essence of Wagyu tradition, uniquely blended with American craftsmanship, in each succulent and tender bite.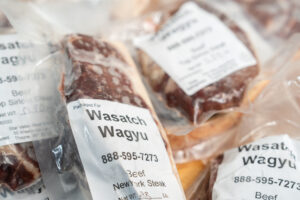 Grass fed option:
Wagyu Grass Fed New York Steak – Wasatch Wagyu
Outbound link: