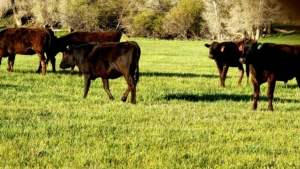 Explore a whole new taste experience with full blood Wagyu beef jerky. Generously portioned at 2.5 ounces Wasatch Wagyu beef jerky represents a real value compared to other jerky brands.
Our goal with our simple, tasty recipes is to provide the Wagyu experience for those who like to eat on the go. It's all about the beef and the good fats of Wagyu — a real departure from common jerky.
Many jerkys come out dry and tough. We decided to take another path with our jerky.
The excellently marbled fat of Wagyu makes for a moist, tender jerky that emphasizes the satisfying taste of the beef. Yes, you're gonna lick your fingers and you are not going to be able to resist making a meal of a single package.
Shipping for jerky is a flat rate $5. All jerky products are shipped via First Class US mail.
All of our beef jerky products are returnable per our Returns Policy as long as it remains unopened in it's original packaging.